Head Office Showroom
Contact

JEL Corporation Head Office

Tel

+81-84-932-6500

FAX

+81-84-932-6501

E-MAIL
---
Current Displayed Robots
New models and main products are on display in Head Office Showroom.
Please contact the address above for a visit.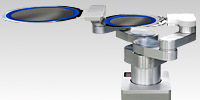 Tape-frame handling robot: MTCR4160

Accessible to all slots in cassette by random access. Available for tape frames for up to 300 mm wafers.
---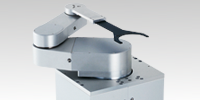 Horizontal and multi-joint type single arm robot: GCR4210 (AC servo motor)

Suitable for parallel layout. Various end-effectors including the edge-grip type end-effector or carrying objects even square substrates are available.
---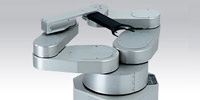 Twin arm robot with path planning handling: STCR4160SN (Closed-loop control)

Simultaneous movement of both theta-axis and arms (R-axes) allows access to cassettes.
---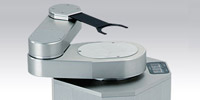 Single arm robot for 300mm wafer: SCR3160CSN (Closed-loop control)

High reliability: Closed-loop control achieves no step-out error under rapid load change or acceleration.
---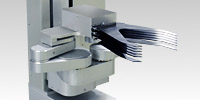 Clean robot with batch end-effector for 5 pieces of wafer: MTCR4160L

High-speed handling of cassette with different pitches for such as vertical furnace.
---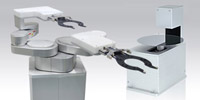 New wafer transfer robot/Warped wafer aligner with auto-adjustment software: MTCR (Reference Exhibit)/SAL38C3HV (Reference Exhibit)

Low vibration with the miniaturization of semiconductor devices. Suitable for large warped wafers.
---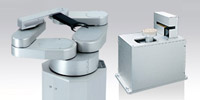 Wafer transfer robot/Aligner: STCR4160SN-300-CM/SAL38C2 (Optical Aligner)

New type of twin-arm clean robot with low-cost, high-speed handling, and no step-out error. Wafer aligner for semiconductor production or inspection lines.
---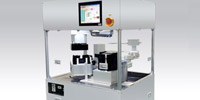 Automatic wafer transfer system for wafer container: SSY-10010

High accuracy transport of thin wafer inside the wafer container.
---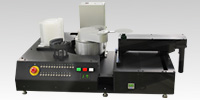 Table-top loader system for 100mm wafer: SSY-10000

Available for various types of wafers; 2, 3 inch, 100mm glass, sapphire, SiC, or GaN or others
---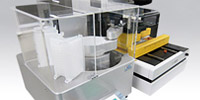 Table-top Loader System: SSY-10000

Resolved the problems and issues caused by manual handling of wafers. Also improved product quality and yield ratio.
---
Bernoulli type end-effector (Contact type/Non-contact type) and Bernoulli hand for thin or warped wafer

Low-cost Bernoulli type end-effector available for customization. As an ideal end-effector for thin and warped wafers, we provide the Bernoulli type end-effector at its most suitable design according to the customers' system layout.
---