---
---
Robot for Semiconductor
GTFR5280 (For 300 mm wafer)
5-Axis Horizontal and Multi-Joint Type Clean Robot
Product Video

Usage Environment/Specifications

Product Profile

| | |
| --- | --- |
| Model Name | GTFR5280 |
| Environment | Clean room atmosphere |
| Arm | Single arm |
| Operating Range | 553 mm (3rd joint center) |
| Vertical Stroke | 320 mm |
| Payload Capacity | Below 4kg (calculated for the arm 3rd joint) |

List of Product Model

Product Model
Vertical Stroke
Standard
GTFR5280-320-DM
320 mm

The image above and the video are of GTFR5280-320-DM.
Characteristics
5-Axis horizontal and multi-joint type clean robot for 300 mm wafer.
A twin end-effector mounted on its single-arm has the same function as a twin-arm robot.
Designed for handling wafers in EFEM.
Compared to our conventional GTCR model, the cycle time is improved by reducing the operation prohibited area and the influence of speed limit.
3 FOUP access is available without a track.
Twin end-effector reduces the wafer swap time.
AC servo motors with absolute encoders installed in all axes. (Batteryless)
Wafer holding: end-effector with vacuum suction, passive edge, edge grip.
Optimal end-effector is selectable according to the carrying object and line layout.
---
Standard Specifications
Example of standard specifications with JEL standard end-effector (vacuum type)
Specifications of Robot
Robot Model
GTFR5280-320-DM
Carrying Object
Up to 300 mm silicon wafer
Wafer Holding Method
By vacuum suction
Robot Model Type
Horizontal and multi-joint type
Control Axis
5-axis
Motor Type
AC servo motor (Batteryless)
Operating Range
From the robot center to the wafer center
Vertical Stroke (Z-axis)
893 mm
320 mm
Carrying Speed (Ave.)
Arm (R-axis)
Vertical Stroke (Z-axis)
900 mm/sec(when cylindrical operation)
320 mm/sec
Carrying Speed (Max.)
Arm (R-axis)
Vertical Stroke (Z-axis)
1,500 mm/sec(when cylindrical operation)
540 mm/sec
Repeatability
Within ±0.05 mm
Cleanliness
ISO Class 1
Utility
Power: AC200V Single phase ±10% 2 kVA; Vacuum: -75 kPa or more
Mass
Approx. 80 kg
Outline Drawing (Standard)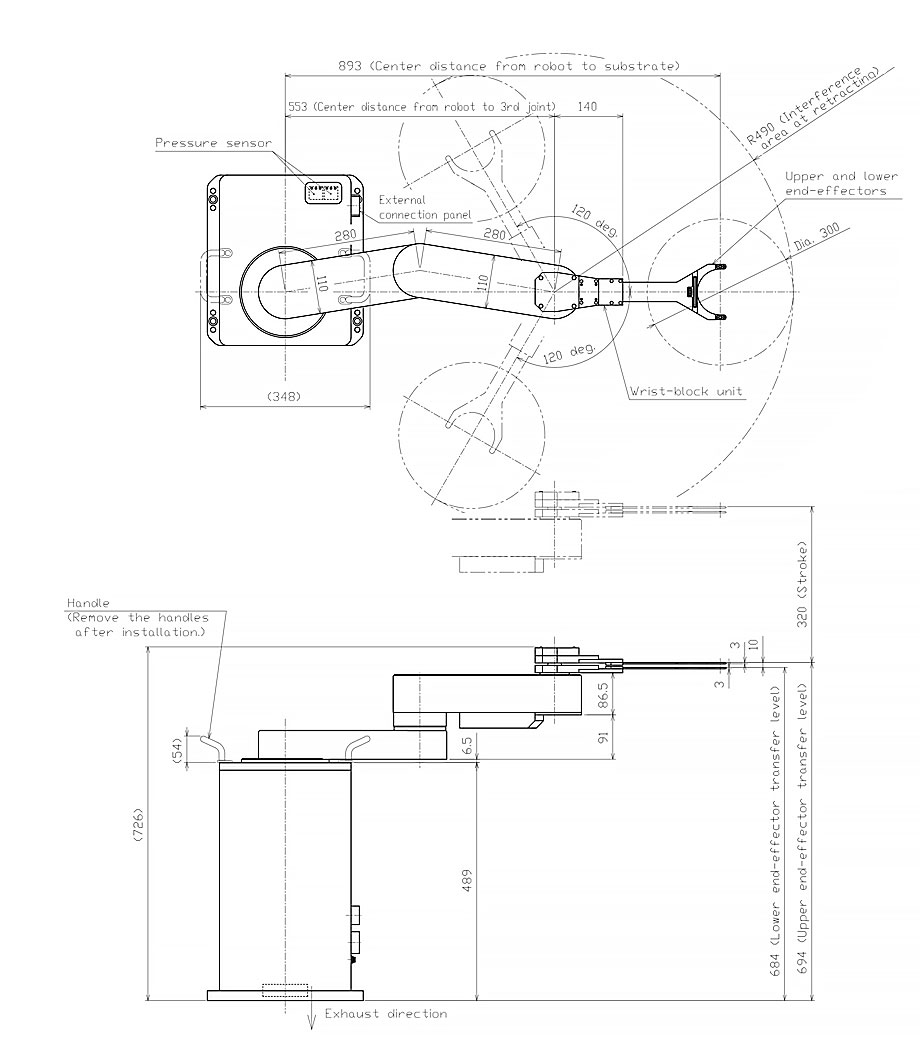 ---
Option
---
Other Option
---
---
Icon guide
...Atmosphere
...Vacuum
...Waterproof
...Single end-effector
...Twin end-effector
...Thin wafer
...CE marking
...JEL's standard spec.
...KCs marking