---
---
System
SSY-10000 (Table-top loader system for 100mm wafer)
Wafer Transfer System
Product Video

Usage Environment/Specifications




Product Profile

Product Model
SSY-10000
Environment
Clean room atmosphere
Operating Range
225mm (Distance to wafer center)
Wafer Size
Up to 100mm
Carrying Object
Glass, sapphire, SiC, or GaN or other wafers
Contact us for the detailed specifications.
Payload Capacity
0.1kg (Wafer only)

The image above and the video are of SSY-10000 (Table-top loader system for 100mm wafer).
Characteristics
For various types of wafers; 2, 3 inch, 100mm glass, sapphire, SiC, or GaN or others.
Customization is available.
Compact system integrating wafer inspection stage into wafer handling system.
Long stroke of 190mm X-axis and 200mm Y-axis. Wafer stage position can be manually adjusted with a handle.
Twin end-effector reduces the wafer swap time.
Low-cost & high-performance system combining robot and passive type alignment stage.
---
Standard Specifications
Carrying Object
Up to 100mm wafer (glass, sapphire, SiC, or GaN or others)
Operating Range
From the robot center to the wafer center
Rotation Angle (Theta-axis)
Vertical Stroke (Z-axis)
225mm
360deg
150mm
Carrying Speed
(Ave.)
Arm (R-axis)
Rotation Angle (Theta-axis)
Vertical Stroke (Z-axis)
225mm/sec
500deg/sec
200mm/sec
Carrying Speed
(Max.)
Arm (R-axis)
Rotation Angle (Theta-axis)
Vertical Stroke (Z-axis)
300mm/sec
700deg/sec
300mm/sec
Wafer Holding Method
By vacuum suction
Repeatability
Within ±0.1mm
Cleanliness
ISO Class 2 (at wafer transfer level when exhausting driving part)
Mass
Approx. 15kg (Robot)
Utility
Power: AC100V±10% 0.2kVA Vacuum: -53kPa or more
Outline Drawing (Standard)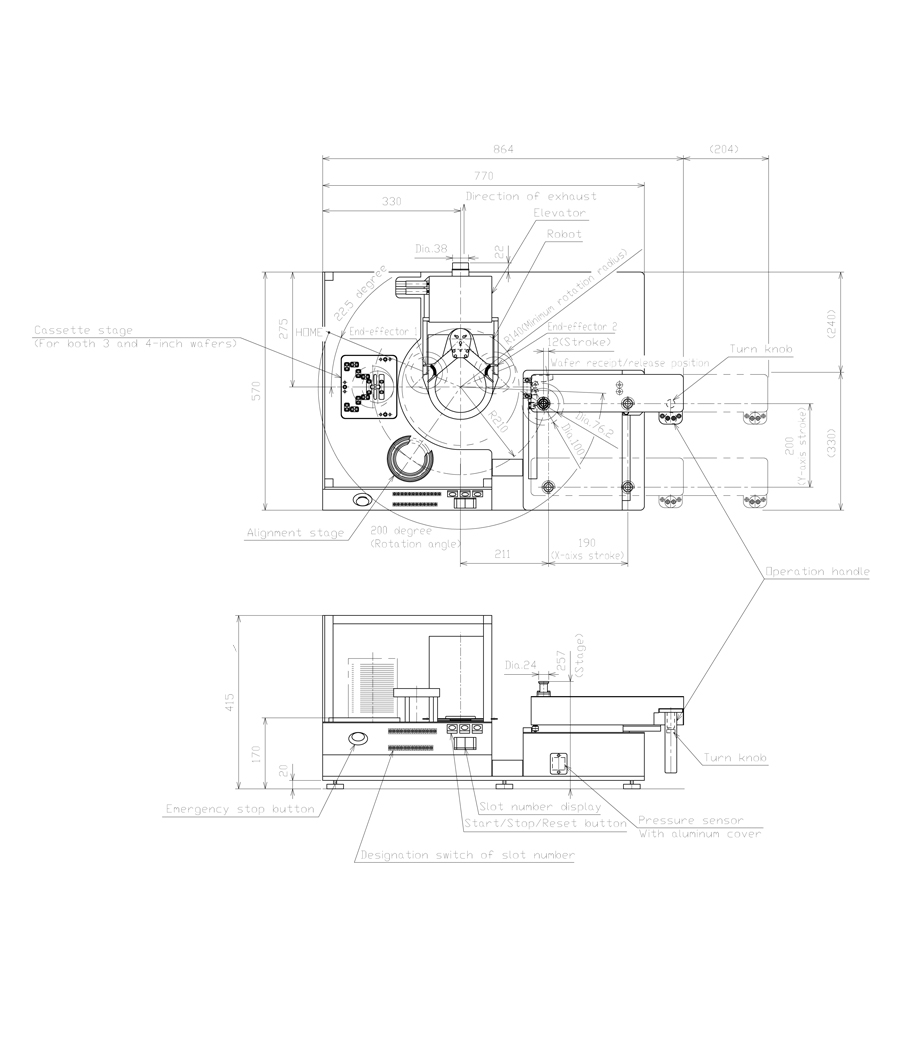 ---
Option
Other Option
---
---
Icon guide
...Atmosphere
...Vacuum
...Waterproof
...Single arm
...Twin arm
...Thin wafer
...CE marking
...JEL's standard spec.
...KCs marking