---

---
Leading Manufacturer of Clean Robot
JEL is known as the "Leading Manufacturer of Clean Robot".
About JEL Corporation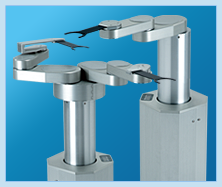 Since the foundation in 1993, JEL has grown as a leading manufacturer of clean robot for semiconductors and FPD glass substrates.
JEL robots have been used by more than 2,800 customers worldwide, which has earned us a reputation for high quality products and stable supply system.

Aiming at a satisfying life by enjoying both work and private life, our company name, JEL is named after an acronym for " Job Enjoy Life ".
---
Network of JEL Corporation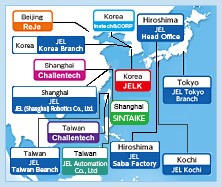 Centering on the head Office, JEL has 3 domestic sales and manufacturing bases in Japan.
Also JEL's overseas network covers international markets through subsidiary in China, Taiwan Branch, Korea Branch, and overseas agents & partners in Korea, China, and Taiwan.
Our products and services are distributed quickly and smoothly through JEL's domestic and overseas network.
Corporate Vision
Customer Satisfaction Comes First

Reliability with customers and vendors is the foundation of management to provide products that satisfy customers.

Innovation and Motivation

The best customer service results in a workplace where employees are motivated to be innovative.

Speed

It is our policy that "the best product would be useless unless the customer receives it in time".

Technology and Experience

Through the extensive experience and our own technologies, we strive to develop products that exactly meet customers' needs.

Reliable Results

More than 20-year manufacturing experience provides customers with the best cost performance products.