Home >
Products >
New Aligner "SAL3000HV Series" (Full auto-adjustment version)
New Aligner "SAL3000HV Series" (Full auto-adjustment version)
JEL developed new aligner "SAL3000HV Series" (Full auto-adjustment version) that allows alignment for various kinds of wafers.
Self-adjustment aligner will save the labor and time of making inquiries or sending the actual aligner to the manufacturer.
JEL ALIGN TOOL comes with Aligner SAL3000HV series that have been released on December 14, 2016.
Modification of the shipped product will be available on request.
Please contact our sales representatives for the product details.

Applicable Model

SAL3000HV Series
SAL3262HV(For 2 inch to 150mm wafer)
SAL3482HV(For 100mm to 200mm wafer)
SAL38C3HV(For 200mm to 300mm wafer)
Three features of "JEL ALIGN TOOL"
1. Software does all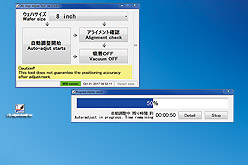 Adjustment windows (image)
No adjustment of threshold or LED illumination is required. Full auto software does all the adjustment and setting.
---
2. Just a single click operation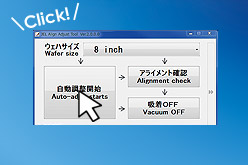 Adjust Start button (image)
Just click Adjust Start button!
ALIGN TOOL speeds up alignment on site.
---
3. Adjust any wafer materials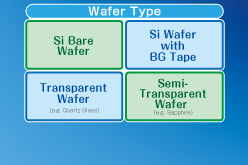 Wafer Type
Auto-adjustment to match any wafer materials
Use Conditions
Supported OS ○: Supported, ×: Not supported
OS
32/64 bit
Japanese/English
Windows 7
32
○
64
Windows 8
32
×
64
Windows 8.1
32
×
64
○
Windows 10
32
○
64
○
Windows Embedded
32
○
64
×
Connection: USB (B type)
*Please note that this tool (software) is not for guaranteeing the positioning accuracy after adjustment. Make sure to check the positioning accuracy by using the customer's inspection device at customer's side.
---