---
---
System
SSY-10010
Automatic wafer transfer system for wafer container
Product Video

Usage Environment/Specifications




Product Profile

Product Model
SSY-10010
Environment
Clean room atmosphere
Applicable Cassette Type
200 mm container, 200 mm wafer cassette
Wafer Size
200 mm
Carrying Object
Silicon wafer, spacer (interlayer paper)
Contact us for other wafer sizes, the number of wafer containers and cassettes, or aligner installation.
Also contact us for wafer containers from any manufacturer.


The image and video above is of SSY-10010.
Characteristics
High accuracy transport of thin wafer inside the wafer container.

Automatic wafer transfer between the wafer container and the wafer cassette.
Available for thin wafer as equipped with Bernoulli end-effector.
Automatic recognition of wafer and the spacer (interlayer paper).
Automatic recognition of the height of wafer.
The number of cassettes and the wafer sizes can be customized.
Equipped with mechanism of automatic lid opening/closing of the wafer container. (Patent pending)
Corresponding to the wafer container made by Achilles Corporation.
Fan filter units (HEPA) are installed to ensure the cleanliness.
Color sensor allows spacers (interlayer papers) with different colors to be detected easily.
(Please contact us in advance.)

---
Standard Specifications
Contact us for other wafer sizes, the number of wafer containers and cassettes, or aligner installation etc.

| | |
| --- | --- |
| Carrying Object | 200 mm silicon wafer, 200 mm spacer (interlayer paper) |
| Applicable Cassette Type | 200 mm wafer container, 200 mm cassette |
| Cleanliness | ISO Class 2 |
| External Dimensions | 1100 (W) x 980 (D) x 1805 (H) (mm) |
| Utility | Power: AC200V±10% Dry clean air: 0.5 MPa 250 NL/min or more |
| Mass | 600 kg |
Outline Drawing (Standard)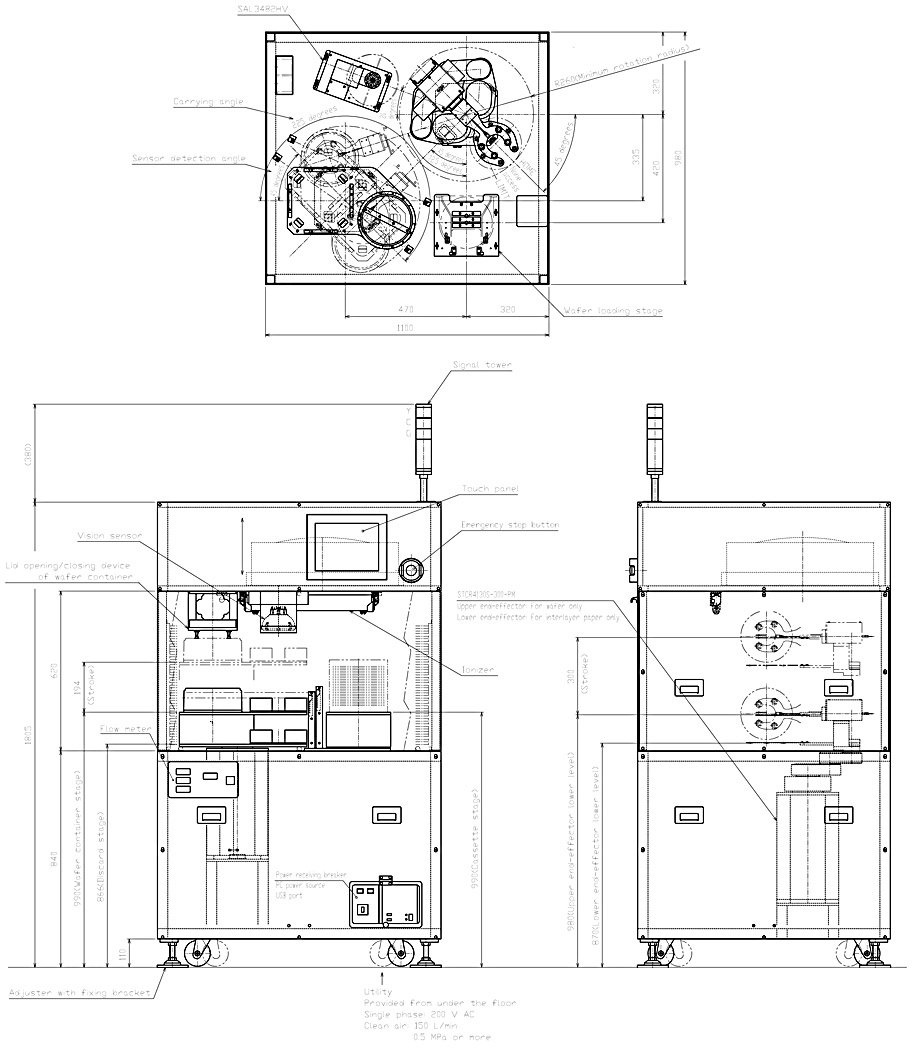 ---
---
Icon guide
...Atmosphere
...Vacuum
...Waterproof
...Thin wafer
...CE marking
...JEL's standard spec.
...KCs marking