---
---
Aligner
New Aligner "SAL3000HV Series" (Full auto-adjustment version)
SAL38C3HV (Multi work aligner)
Wafer Aligner
Product Video

Usage Environment/Specifications




Product Profile

| | |
| --- | --- |
| Product Model | SAL38C3HV |
| Environment | Clean room atmosphere |
| Wafer Size | 200 to 300 mm |
| Carrying Object | Transparent, translucent, or silicon wafer |

The image is of SAL38C3HV.
The video is of full auto-adjustment software "JEL ALIGN TOOL".
Characteristics
Full auto-adjustment software JEL ALIGN TOOL comes with Aligner SAL3000HV series that have been released on December 14, 2016.
Downtime can be reduced significantly.
*Click to go to the page of New Aligner "SAL3000HV Series" (Full auto-adjustment version)(*).
(*) Please note that this tool (software) is not for guaranteeing the positioning accuracy after adjustment. Make sure to check the positioning accuracy by using the customer's inspection device at customer's side.
New type of aligner available for any material of wafer for 200 to 300 mm wafer
High-speed, high-accuracy centering and flat/notch locating are available for silicon wafer with BG tape as well as silicon, transparent, or translucent wafer.
Equipped with JEL-developed image sensor, and internal motor driver and controller.
Size, shape, material of spindle can be changed according to the wafer type.
Bernoulli type is also available.
Control: RS232C and parallel photo I/O
Available for non-SEMI standard notch or flat
Optional Z-axis for pick-up/place operation is available.
---
Standard Specifications
Carrying Object
SEMI standard 200 to 300 mm wafer (Transparent, translucent, silicon)
Positioning Time
Centering : 3 sec (Wafer pick-up/placing time excluded)
Positioning Accuracy
Centering: Within ±0.1 mm
Flat locating/Notch locating: Within ±0.1 deg
Sensor
LED light + wafer edge detection with image sensor unit
Wafer Size Change
By command control or switch
Cleanliness
ISO Class 2 (at wafer transfer level when exhausting driving part)
Driving Method
2-phase stepping motor (for 3 axes)
Internal motor driver, controller
Utility
Power: DC24V±10% 3A
Vacuum: -53 kPa or more
Outline Drawing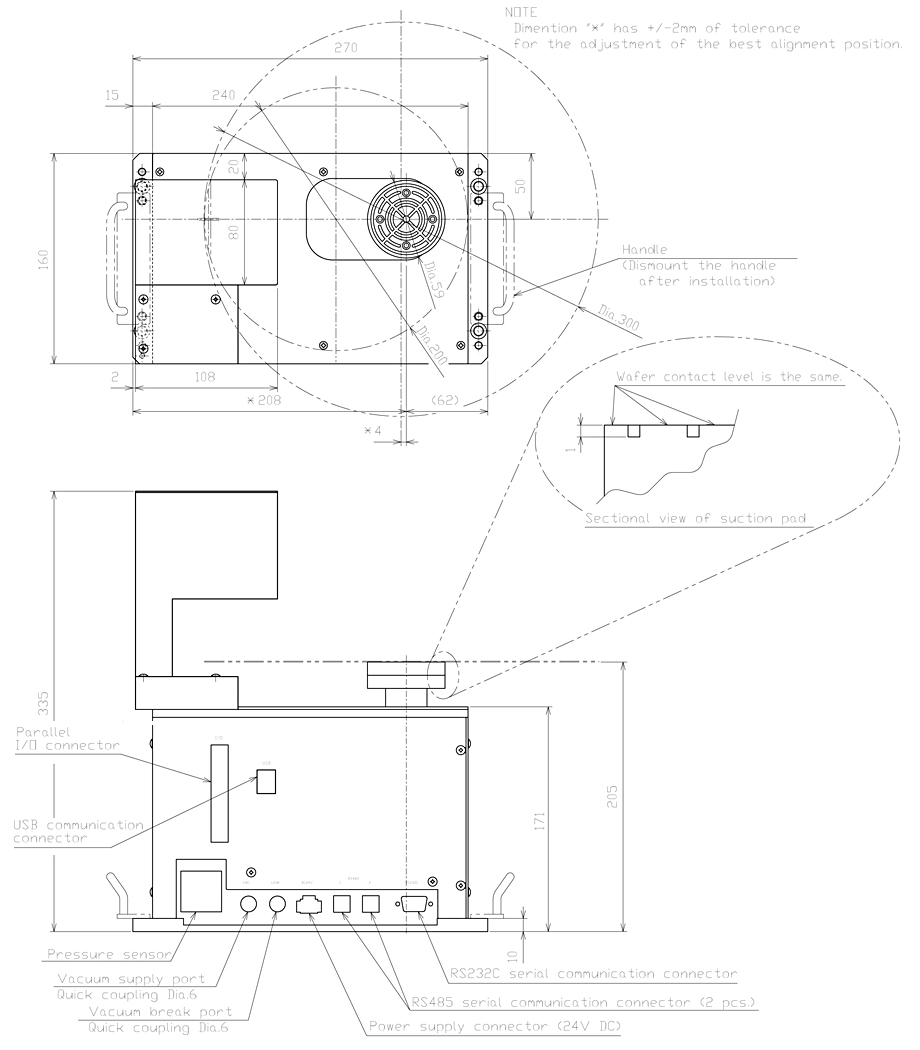 ---
---
---
Icon guide
...Atmosphere
...Vacuum
...Waterproof
...Thin wafer
...CE marking
...JEL's standard spec.
...KCs marking