---
---
Robot for Semiconductor
GTVCR5330
5-Axis Horizontal and Multi-Joint Type Clean Robot
Product Video

Usage Environment/Specifications

Product Profile

Model Name
GTVCR5330
Environment
Clean room atmosphere (Temp. 15°C to 40°C)
Process chamber (Max. Temp. 450°C)
Arm
Single arm
Operating Range

635mm (3rd joint center)

Vertical Stroke
60mm
Payload Capacity

Below 4kg (calculated for the arm 3rd joint)

List of Product Model

| Product Model | Vertical Stroke |
| --- | --- |
| GTVCR5330-060-AM | 60mm |

The image above and the video are of GTVCR5330-060-AM (*The robot in the image and video uses the four end-effectors.)
Characteristics
Achieved cost reduction while maintaining the performance and functions of conventional robot GTVHR5000 series.
Transfers to the parallel stages in the vacuum chamber and supports various layouts, reducing footprint and vacuuming volume.
Simplification of the chamber layout leads to the cost reduction.
Suitable to the inline layout.
Execution of origin search is not required by using the servo motors with absolute encoders.
Arm lineup: 280mm, 330mm
Magnetic fluid sealing is used for arm joint.
Vacuum sealing: Magnetic fluid sealing and bellows are used.
For cleanliness: 5µm mesh filter installed for exhaust ventilation in the arm.
Twin end-effector reduces the wafer swap time.
Motion monitoring is available.
RS232C and parallel photo I/O are standard for control.
AC servo motors with absolute encoders installed in all axes.
High-speed, high-accuracy wafer handlingby S-curved speed control.
Wafer holding: end-effector with passive edge or edge grip type end-effector, and friction retaining by O-ring.
End-effector material: CFRP, Al, ceramic, or others.
Optimal end-effector is selectable according to the carrying object and line layout.
---
Standard Specifications
Representative specifications of GTVCR5330-060-AM.
It can be changed depending on the carrying object and end-effector type.
Specifications of Robot
Robot Model
GTVCR5330-060-AM
Carrying Object
Wafer up to 300mm
Robot Model Type
Horizontal and multi-joint type
Control Axis
5-axis
Motor Type
AC servo motor
Operating Range
3rd Joint Center
Rotation Angle (Theta-axis)
Vertical Stroke (Z-axis)
635mm
360deg
60mm
Carrying Speed (Ave.)
Arm (R-axis)
Rotation Angle (Theta-axis)
Vertical Stroke (Z-axis)
640mm/sec
160deg/sec
60mm/sec
Carrying Speed (Max.)
Arm (R-axis)
Rotation Angle (Theta-axis)
Vertical Stroke (Z-axis)
950mm/sec
200deg/sec
85mm/sec
Resolution
1st Joint Axis (J1-axis)
2nd Joint Axis (J2-axis)
3rd Joint Axis (J3-axis)
3rd Joint Axis (J5-axis)
Z-Axis (J4-axis)
0.00081deg
0.00081deg
0.00072deg
0.00072deg
0.98µm
Repeatability
Within ±0.1mm
Handling Level
219mm (Mounting level to upper end-effector level)
Cleanliness
Magnetic fluid sealing and filter
Vacuum resistance
1 x 10-6Pa
Utility
Power: AC200 to 230V 2kVA 50/60Hz
Specifications of Controller
Controller Model
C5000S series
Interface
RS232C and parallel photo I/O
Outline Drawing (Standard)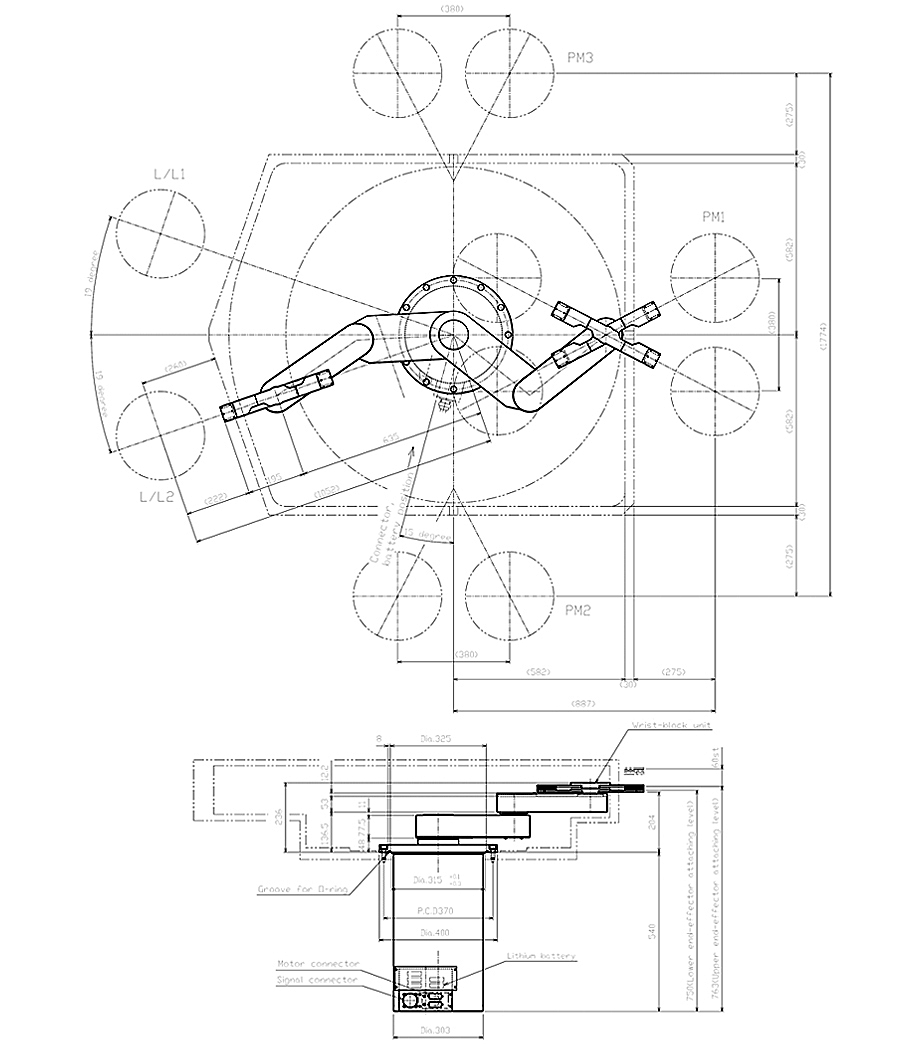 ---
---
Icon guide
...Atmosphere
...Vacuum
...Waterproof
...Single end-effector
...Twin end-effector
...Thin wafer
...CE marking
...JEL's standard spec.
...KCs marking