---
---
Aligner
SAL30J1HV (For 450mm wafer)
Wafer Aligner
Product Video

Usage Environment/Specifications




Product Profile

Product Model
SAL30J1HV
Environment
Clean room atmosphere
Wafer Size
450mm
Carrying Object
Silicon wafer
(with T7 code or notch)

This video shows GCR4280-420-AM and SAL30J1HV.

*The monitor is for demonstration only.
Characteristics
For handling 450mm notchless wafer
High-speed and High-accuracy positioning based on the wafer edge, T7 code or notch for 450mm Silicon wafer.
Equipped with JEL-developed image sensor, and internal motor driver and controller.
Size, shape, material of spindle can be changed according to the wafer type.
Control: RS232C and parallel photo I/O
Aligner for 450mm and 300mm wafer is available with the same footprint.
Optional Z-axis for pick-up/place operation is available.
---
Standard Specifications
Carrying Object
SEMI standard 450mm Silicon wafer (with T7 code or notch)
Positioning Accuracy
Centering: Within ±0.1mm
Locating: Within ±0.1deg
Positioning Time
Within 4 sec.
Sensor
LED light, wafer edge detection with image sensor unit

Positioning Offset Range
Within 8mm radius
Wafer Holding Method
By vacuum suction
Cleanliness
ISO Class 2 (at wafer transfer level when exhausting driving part)
Mass
Approx.18kg
Utility
Power: DC24V±10% 3A Vacuum: -53kPa or more
Outline Drawing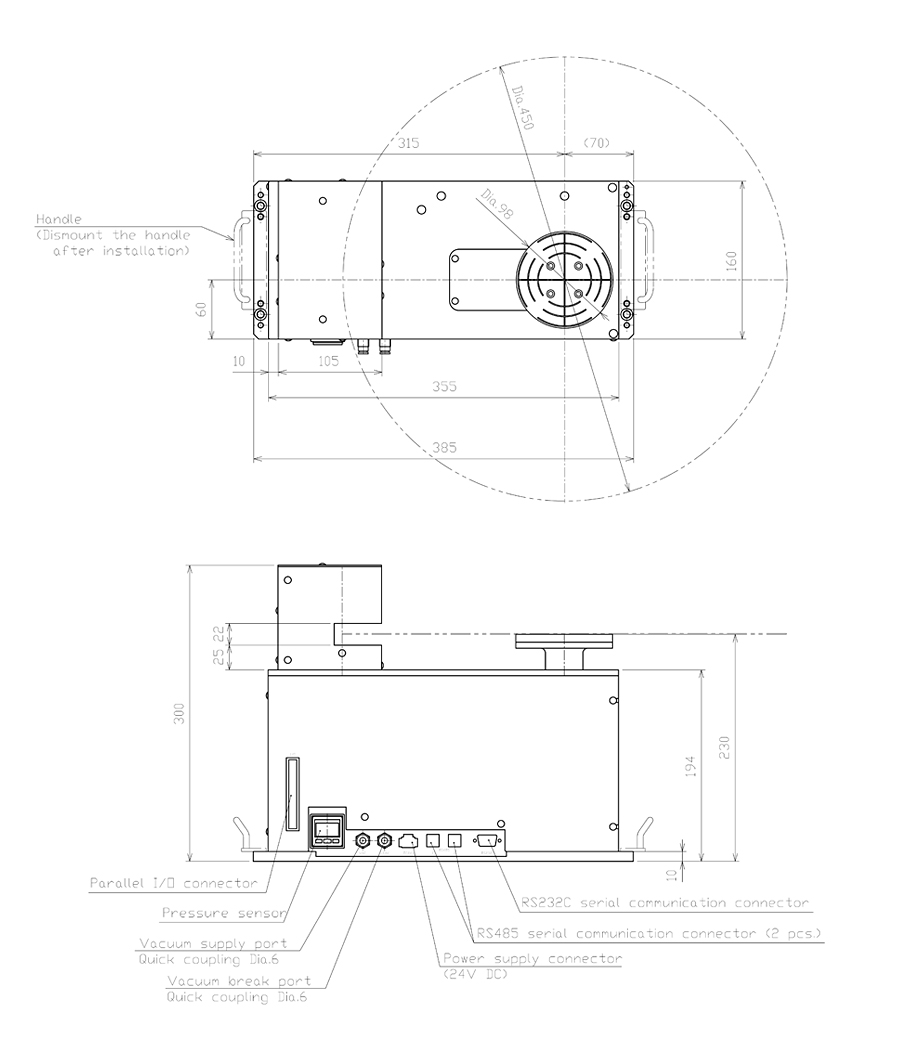 ---
---
Icon guide
...Atmosphere
...Vacuum
...Waterproof
...Thin wafer
...CE marking
...JEL's standard spec.
...KCs marking