---
---
Robot for Semiconductor
MTCR4280 (For large diameter wafer)
4-Axis Cylindrical Coordinate Clean Robot
Product Video

Usage Environment/Specifications

Product Profile

| | |
| --- | --- |
| Model Name | MTCR4280 |
| Environment | Clean room atmosphere |
| Arm | Twin arm |
| Operating Range | 545mm (3rd joint center) |
| Vertical Stroke | 420mm |

List of Product Model

| Product Model | Vertical Stroke |
| --- | --- |
| MTCR4280-420-AM | 420mm |

The image above and the video are of MTCR4160-300-AM (For 300mm wafer).
Characteristics
Designed for handling large diameter wafer in a production line or inspection line of semiconductor.
High-speed handling by AC servo motor and superior cost performance compared to MTHR type.
Execution of origin search is not required by using the servo motors with absolute encoders.
Twin-arm reduces the wafer swap time.
Base or flange mounting type is selectable.
Motion monitoring is available.
RS232C and parallel photo I/O are standard for control.
AC servo motor installed in all axes.
High-speed, high-accuracy wafer handling by S-curved speed control.
Wafer holding: end-effector with vacuum suction, passive edge, edge grip, or Bernoulli type End-effector.
End-effector material: CFRP, Al, ceramic, or others.
Optimal end-effector is selectable according to the carrying object and line layout.
---
Standard Specifications
Example of standard specifications with JEL standard end-effector (vacuum type) for 450mm wafer.
Specifications of Robot
Robot Model
MTCR4280-420-AM
Carrying Object
450mm silicon wafer (notch type)
Wafer Holding Method
By vacuum suction
Robot Model Type
Cylindrical coordinate type
Control Axis
4-axis
Motor Type
AC servo motor
Operating Range
From the robot center to the wafer center
Rotation Angle (Theta-axis)
Vertical Stroke (Z-axis)
995mm
340deg
420mm
Carrying Speed
Arm (R-axis)
Rotation Angle (Theta-axis)
Vertical Stroke (Z-axis)
540mm/sec
170deg/sec
200mm/sec
Resolution
Arm (R-axis)
Rotation Angle (Theta-axis)
Vertical Stroke (Z-axis)
Below 11.5µm
0.0013deg
1.96µm
Repeatability
Within ±0.1mm
Cleanliness
ISO Class 2 (at wafer transfer level when exhausting driving part)
Utility
Power: AC200V; Vacuum : -53kPa or more
Outline Drawing (Standard)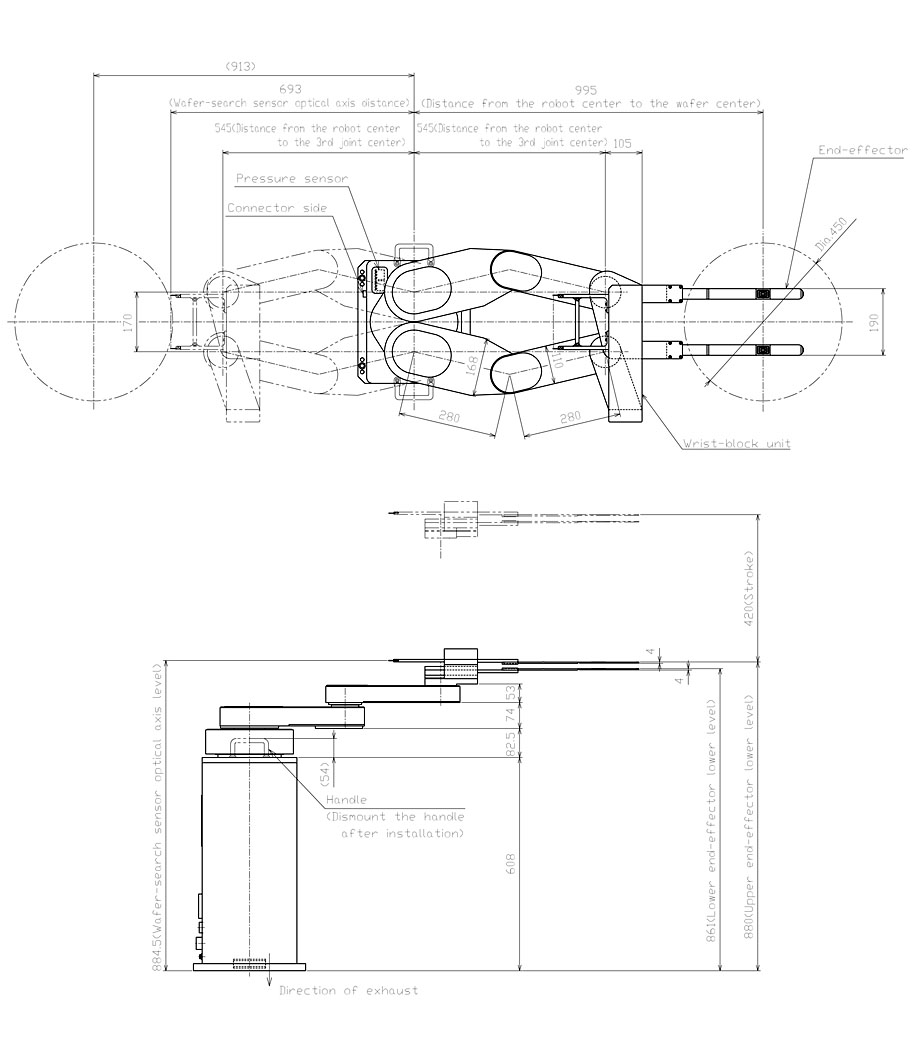 ---
Option
End-Effector
*Click the items below to review the end-effectors other than JEL standard types.
Other Option
---
---
Icon guide
...Atmosphere
...Vacuum
...Waterproof
...Single arm
...Twin arm
...Thin wafer
...CE marking
...JEL's standard spec.
...KCs marking