---
---
Robot for Semiconductor
MTCR4160L (with batch end-effector for 5 pieces of wafer)
Product Video

Usage Environment/Specifications

Product Profile

| | |
| --- | --- |
| Product Model | MTCR4160L |
| Environment | Clean room atmosphere |
| Arm | Twin arm |
| Operating Range | 710mm (Robot center to wafer center) |
| Vertical Stroke | 700mm |

List of Product Model

| Product Model | Vertical Stroke |
| --- | --- |
| MTCR4160L-700-AM | 700mm |

The image above and the video are of MTCR4160L-700-AM (with batch end-effector for 5 pieces of wafer)
Characteristics
High-speed handling of cassette with different pitches for such as vertical furnace.
Execution of origin search is not required by using the servo motors with absolute encoders.
Suitable for the system with low-passline and long vertical stroke.
Highly flexible layout is provided with rotation angle of ±160 deg. by column-type driving unit.
Pitch shifting of end-effector can be freely set in the range of 5mm to 10mm.
---
Standard Specifications
Specifications of MTCR4160L-700-AM. It can be changed depending on the carrying object and end-effector type.

(*1) Specifications when wafer is held by a rough guide with passive edge holding.
Other holding method such as vacuum suction is available. Contact us for the detailed specifications.
Specifications of Robot
Robot Model
MTCR4160L-700-AM
Carrying Object
300mm silicon wafer
Wafer Holding Method
Rough guide by passive edge holding
Robot Model Type
Cylindrical coordinate type
Control Axis
4-axis
Motor Type
AC servo motor
Operating Range (*1)
Arm (R-axis)
Rotation Angle (Theta-axis)
Vertical Stroke (Z-axis)
710mm
±160deg
700mm
Carrying Speed (Ave.) (*1)
Arm (R-axis)
Rotation Angle (Theta-axis)
Vertical Stroke (Z-axis)
415mm/sec
135deg/sec
350mm/sec
Carrying Speed (Max.) (*1)
Arm (R-axis)
Rotation Angle (Theta-axis)
Vertical Stroke (Z-axis)
830mm/sec
190deg/sec
500mm/sec
Resolution
Arm (R-axis)
Rotation Angle (Theta-axis)
Vertical Stroke (Z-axis)
Below 6.55µm
0.00082deg
4.89µm
Handling Level
676mm (Lowest slot)
Repeatability
±0.1mm
Cleanliness
ISO Class 2 (ISO14644)(at wafer transfer level when exhausting driving part)
Utility
Power: AC200V Single phase ±10%
Mass
Robot main body: Approximately 180 kg
Specifications of Controller
Controller Model
C5000S series
Interface
RS232C and parallel photo I/O
Outline Drawing (Standard)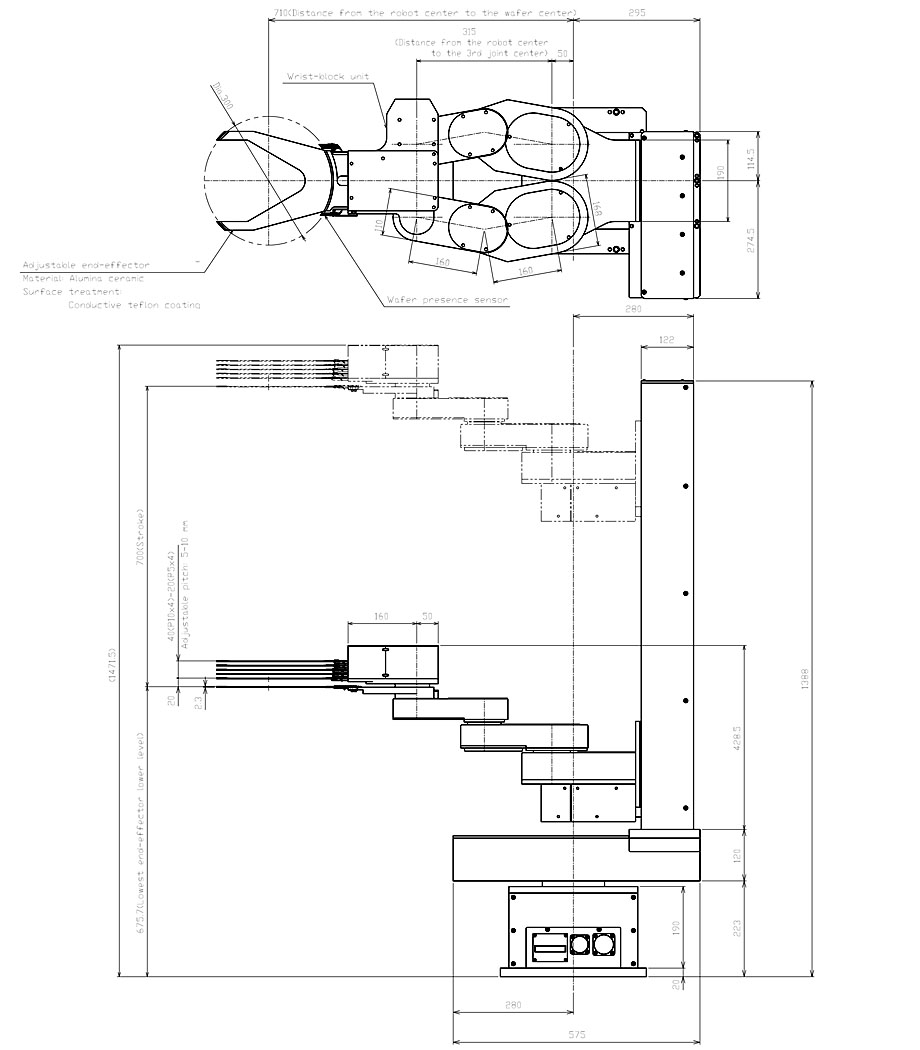 ---
---
---
Icon guide
...Atmosphere
...Vacuum
...Waterproof
...Thin wafer
...CE marking
...JEL's standard spec.
...KCs marking